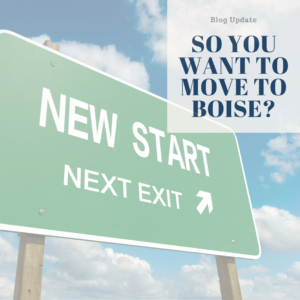 Boise has made so many top 10 lists for being the best place to live that Idaho has quickly become one of the fastest growing states. The articles boast our abundance of recreational activities, affordability and safe surroundings. Don't get me wrong, it certainly feels like a utopia sometimes; my Instagram handle is @LoveBoise for good reason! However, I often hear from out-of-state clients who are convinced Boise is the place for them before setting foot inside state lines. Making a move to a different city, state or even country, takes so much more than a desire for change. As someone who moved to Boise almost 20 years ago, I have personal experience in making it my home and helping other people resettle here.
From choosing a place to retire or raise a family away from the grind of a major city, it takes a strategic plan complete with reflection and research. While I can't do the soul-searching for you, I can provide some helpful tips for visiting Boise. The organic process of experiencing the city through a local lens is paramount to finding out if it's a good fit. If you're thinking of moving to Boise, here are questions to ask, as well as some ways to find answers. We'll start with some frequently asked questions about Boise.
Boise FAQs:
What is the weather like in Boise? Boiseans are famous for saying that we get all four seasons, sometimes all in one day! They also say that if you don't like the weather, wait 15 minutes. Both are certainly true. We have more than 200 days of sunshine on average per year, making for hot, arid summers with little-to-no rainfall. We also have mild winters, which means that if it's cold and rainy in town, it's snowing on top of Bogus Basin. This makes shoveling the driveway usually unnecessary, especially when there's a powder day on the mountain.

Does Boise have good schools? The city of Boise and surrounding areas like Eagle and Meridian have excellent schools. Public schools like Boise Senior High and Timberline compete well with private or charter schools like Riverstone International. Plus, One Stone, a school with a student-designed curriculum, calls Boise home. When looking at schools on websites like GreatSchools.org, keep in mind that a 5/10 in Boise is a good average school that many parents and students enjoy. Buyers coming from large metropolitan markets will have to consider the context, as a one-point difference in Boise doesn't always mean there's a plunge or surge in property values.
Is Boise safe? Boise has consistently ranked high on Internet lists that tout its low crime rates and scarcity of natural disasters. A low rate of unemployment and an affordable cost of living contribute to these factors. Hurricanes are non-existent and earthquakes and tornadoes are rare, though wildfires do occur. Aside from physical safety, the reputation of its population being "Boise nice" make it a welcoming place to newcomers. Just be sure to brush up on the truth behind many of Boise's biggest myths on my blog.
If reading the answers to those questions leaves you wanting to take the next step, keep reading.
Questions to Ask:
Is your job transferable? Boise's industries grow year over year, but the job market here is unlike other cities, especially when it comes to wages. If you're moving from a top-tier city like Chicago, Los Angeles or San Francisco, the pickin's here might be slim for jobs. Find out if your job can be transferred or if you can work remote.
If not, begin networking with Boise locals in your industry. People here are more than willing to sit down for coffee or go for a walk to discuss their experience.
to sell? It's important to do a walk-through of your home and see it through the eyes of potential buyers. That broken fence gate might not have been a big deal to you, but every little thing will be scrutinized when it's on the market. My advice: declutter and take stock of your home in its current state. Click for a helpful checklist to review before selling your home.
When your home is physically ready to put on the market, be sure to read my blog on preparing for the emotional journey of moving.
What neighborhood is right for you? Boise boasts so many beautiful places to live. From the banks of the Boise River in Southeast Boise to the winding hillsides of The Highlands, you can't go wrong. I suggest those considering a move to stay in an Airbnb in the neighborhood they think they want to live in, as well as one somewhere new. This will provide a better idea of how your family will operate within the community. You'll find what parks you like to visit, how much driving you'll have to do and what grocery stores you'll frequent.
When you find a neighborhood you like, return to it in a different season. You might find that a home in The Highlands or in Eagle offers quiet solitude in the summer. In the winter, the traffic on Bogus Basin road or the commute on Eagle Road might make you feel differently. You might the opposite true near the river, where the Greenbelt bustles all summer long and quiets down in the winter.
Once you've completed your reflect-and-research period, I'd be more than happy to help you find a home in Boise. If questions come up during the process, don't hesitate to reach out to me at idahohodges@gmail.com.