Boise's real estate market continues to blossom
Boise is in bloom! Spring has sprung in Idaho, with leafing trees, greening sagebrush and a blooming Boise real estate market. Each day brings more inventory and more buyers. Here's a market update for those of you buying, selling and owning a home right now. 
Buyers
Last week, I was pleasantly surprised by the amount of clients looking for homes. Even with COVID-19 dominating the news, most of my buyers are ready to upgrade, rethinking their lifestyle or downsizing to soften potential financial stress. The world has changed for all of us, but one thing remains consistent: Boise has buyers. 
Many buyers who are watching the global economy suffer might be waiting for a downturn in the Boise real estate market to capitalize on an investment. Based on the data for Ada County, a downward trend for prices is not on the way. The reality of the market shows the trend of multiple offers for some listings continuing. For example, this clean, well-staged home had 10 offers. Relocations to Boise also continue, as people are still moving here for jobs. However, nearby states aren't allowing sellers to list their homes while they're occupied. This means locals in Boise might have more control than they have in the past. The market is still very competitive, though, as inventory remains tight. My advice to buyers: this is not a wait and see situation. 
Many buyers are still waiting for inventory to hit the market in Boise's North End, East End, as well as in Southeast Boise and Northwest Boise. These hotspots still have low inventory and high demand. However, with less out-of-state competition, Boise locals may have more success landing a home in these coveted locations. 
Sellers
Inventory remains low, so sellers still retain much of the control in the Boise real estate market. Sellers who are waiting for the economy to improve should consider listing as soon as possible. Inventory typically goes up in July and August, so listing sooner will result in more traffic and more offers. While it's a bit less hectic this time of year, pricing is still strong when compared to other markets. It's a little softer than a normal Boise spring market, but with Idaho's stepped approach to reopening the economy, I'm anticipating a normal summer upswing in inventory.
Homeowners:
For those of you who aren't buying or selling right now but are considering a refinance or mortgage forbearance, I asked Group One Sotheby's International Realty's preferred partner lender, Melinda McCaslin at Guaranteed Rate, to weigh in on how to navigate what is surely a difficult financial decision.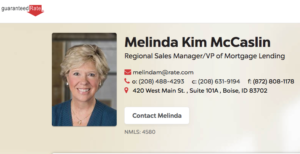 What are homeowner's options right now if they're running into financial trouble?
MM: I would recommend that borrowers facing financial trouble call their mortgage servicer to see what options they have on their specific loan. A refi is not a good option for borrowers having financial trouble as they will need to disclose any covid-related financial difficulties during the underwriting process.  If a borrower needs to consider forbearance, they will have more options on a loan that has been in place for awhile. While the CARES act provides relief for borrowers, I would recommend forbearance only as a means of last resort!
What would you say about the current rates and record amount of business to homeowners in the valley?
MM: Current rates on primary residences are extremely good right now, despite unusually high volatility. For borrowers that have not been negatively impacted by Covid, it is a good time to consider refinancing.
I hope that this update helped put your mind at ease, and if it left you with additional questions, please send me an email (idahohodges@gmail.com). In the meantime, get out and enjoy this beautiful spring weather. Remember social distancing rules still apply!