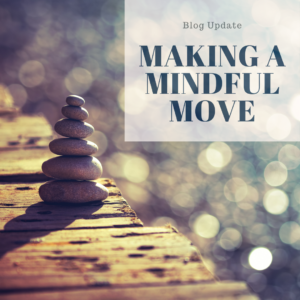 With "For Sale" signs sprouting up like May flowers across Boise, those who have considered selling their house might feel pressured to do so now. For some sellers, listing their home is the only choice, whether that be due to a change in relationships or career. For others, it's most likely a desired transition or lifestyle change, like choosing a new location, desiring more or less space or refocusing on finances, that leads them to move.  Putting your house on the market requires not only some physical effort, but an emotional check-in that can be a challenge.
My hope for you if you're thinking of selling your home right now (for a non-critical reason) is that you'll take time to reflect so that when the process begins, you'll have conviction in your choice to sell.  As a Realtor, I pride myself on guiding people through the emotional steps of one of the biggest transactions of their lives. Doing the important work of self-discovery upfront will make the process of selling your house less turbulent. Here's what I suggest you do before deciding to list your home.
Find Your Why
Most of us emotionally attach to our homes, especially now that we're spending so much time in them. I'm a virgo, which makes me a serious nester. I settle into a space so deeply, that leaving brings on so many emotions. That's why I feel honored to help others let go of their current homes and find the place that will serve them in their next chapter; I can truly understand what they're feeling.
If these questions lead you back to the space you're in, or if you're finding that you're unsure of your "Why," then it might be wise to investigate paths other than putting your house on the market. When you decide to list your house for sale, a strong reason will allow you to move through the emotional stages and the work required to part from your home. Here are some sample questions that relate to different reasons to find your "Why." Keep in mind, these are just common reasons why some people move, and your "Why" and questions to ask might vary.
Space
Do I need more space? Do I need less space?

Have I talked to someone (e.g. a contractor, architect) about expanding or improving my space?

Have I explored all of the ways we might be able to stay in this house?

What's important to find in a new house? Make a list of what you want.
Finances
Have we investigated refinancing?

Is mortgage forbearance a good option for us?

Will our lives improve with lower expenses?
Location
Does this house's location serve our lifestyle?

Do we feel rooted in our community in this house?

What's important in a new location that would improve our lives?
Emotionally Detach
Once your "Why" has been established, it's time to emotionally detach from your home. Listing a house involves opening it up to scrutiny, from buyers' remarks about that floor plan you love not working for them, to the inspection process. No one's house is perfect. Not to mention, putting a price on a house without first emotionally detaching can bring up a lot of feelings. If you love your home, you're going to add emotional value that might not translate to potential buyers. If you say to yourself, "I'm only going to sell if I get this (top-dollar) price," then you're not ready to sell. As a professional real estate agent, I have experience that allows me to objectively price a house in a range that sets you up for success. The price we suggest might not match your emotional value of the home. Be prepared to check in with yourself and your feelings.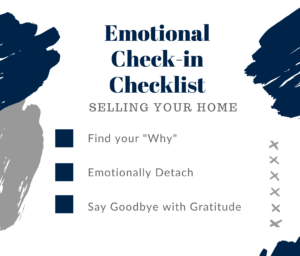 In general, discomfort is a keystone of growth, but honoring your emotional attachment to a home will move you closer to your why. I will also give you a checklist with what you'll need to do to prepare it to sell. That could be anything from decluttering and washing windows to painting and staging. Remember that potential buyers coming into your space will bring their own set of emotional standards. Allowing them to visualize their future there is key to going under contract with a strong offer. This means physically detaching from the home, as well, can bring up feelings to reflect upon. Removing personal items, packing up family heirlooms and taking your personality out will challenge the "Why" you've established. Having that conviction is key to moving closer to your future, where new memories will be made.
Saying Goodbye with Gratitude
That brings us to goodbye. I really encourage my sellers to walk through their home to say goodbye, to thank that house for being a place they made memories and milestones. That house served you for a time and in ways that will only now be apparent to you. It might be the place you raised your family, or the place you discovered who you are. Thank it for serving you, for allowing you to grow into the person who can now move forward with confidence. If letting go is something you struggle with, I highly recommend reading Necessary Endings by Henry Cloud. This book has been my go-to in business and in life.
For many people, there are few transactions more emotional than selling a home. I'm so grateful to be able to guide you through that journey. If you have any questions, please feel free to reach out to me at any time. My hope is to bring you comfort and move you closer to what's next in your journey.