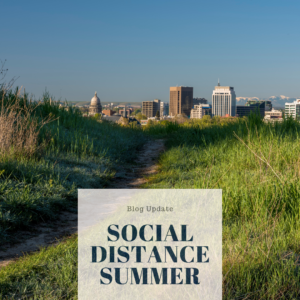 With the mask mandate in effect in Ada County, there seems to be no end in sight for the pandemic, my family and I have been searching for ways to keep morale high. It's so important to me to give them a fun summer. Social distancing in summer means our kids can't see their friends and we can't travel the way we used to; I've been brainstorming ways to give them a good old fashioned Boise summer. I thought I'd share those ideas with you!
Get on the Greenbelt
The simplest way to have instant fun is to hop on our bikes and hit the Boise River Greenbelt. The girls and I biked downtown this week (fully masked, of course). We picked up boba teas and a picnic and rode to Kristin Armstrong Park to eat. My kids love to play in the Frog Pond near the MK Nature Center, as well.
Bring the Drive-In Home
I'll admit that because my kids are at home while I work, they're having more screen time than usual. When I want to mix it up, we take it outside. We found a projector on Amazon and there are so many ways to DIY a screen. They're even available online. Movie night in our house isn't complete without popcorn from our Whirly Pop. We combine canola and coconut oil with heirloom tiny popcorn. For a true treat, I love to add Parmesan cheese and a balsamic glaze.
Head to the Beach
Although we'd love to venture to the Oregon Coast right now, we're uncomfortable traveling too far from home. Good thing we have a beautiful shoreline right here in town! The other night, we took our dinner up to Sandy Shores for a private picnic at Lucky Peak. It was quiet and a beautiful change of scenery. They also rent stand up paddleboards
Summer Scavenger Hunts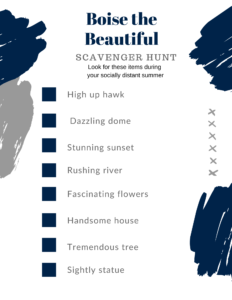 We're lucky to live in such an interesting city, with so many things to do and see. I've linked printouts for the Girl Scouts "love the outdoors" Summer Challenge and summer scavenger hunt here so that you can see Boise with fresh eyes this summer. Number 6 has been an easy one to accomplish this summer with all of the gorgeous sunsets.
Float the Boise River
We weren't sure if the Boise River would open to floaters this year, but luckily on July 1, the Barber Park shuttle and rental station opened. While the air-fill stations are closed, they're taking excellent social distancing measures, which you can see on their Facebook page. The river has been so low that we've floated on SUP, inflatable kayaks and classic rafts.
Date Night In/Out
My husband and I have been really missing our date nights. Luckily, Boise's best restaurants are stepping up their game to provide a complete date night experience. We're so excited to order from Petite 4's Friday Date Night menu this week, and we're looking forward to a night away from home at KIN's piKINic.
Pool Party
The City of Boise has so many community pools, and these are typically a staple of our summer. At the beginning of the pandemic, we ordered an above-ground pool online. Our girls use it every single day. It was quite possibly the best pandemic-purchase I made.
Go Botanical
Living in the East End, the Idaho Botanical Garden is like another neighborhood park. We can go there anytime, find shade and learn a lesson or two about native plants that grow in our area. They're also hosting weekend brunch, weekday concerts and offer a range of educational programming.
Camp Out
We've been trying to camp on the weekends, heading out to the Owyhees earlier in the season and up to the mountains as the temps rise. When we can't get our stuff together or the campgrounds are too busy, we just camp in the backyard! We have a fire pit for s'mores. Pro tip: use Keebler fudge stripes for the best s'mores ever. I grew up outside of Idaho Falls, picking huckleberries in the Teton Valley. If anyone wants to share a more local spot, I'll repay you in berries!
Whitewater Fun
When we need to inject some energy into the weekend, we're planning to book a whitewater rafting trip on the Payette River through one of the outfitters like Bear Valley Rafting. The change of scenery, day on the water and adrenaline rush help shake us out of a down mindset. Plus, on the way home, we're sure to stop at Volcanic Farms for one of their famous pies.
Throughout this pandemic, I keep returning to a single thought: We are so lucky to be living in Boise at this moment in history. We have an unparalleled sense of community, an endless amount of activities to do and long, summer days to enjoy them. I hope that you're finding some calm and joy in this uncertain time and that this list adds some points of hope to your summer.