Connection Over Cosmetics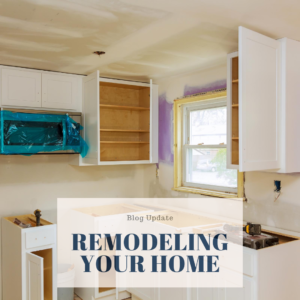 Last week, I walked into my bathroom to find a bowl of uncracked eggs from our chicken coop beside the bathroom sink. I called out to my family. My husband said he thought they'd be safer there than in the demolition zone that is our kitchen right now. On top of having two kids at home in the midst of a global pandemic, we decided to carry out a plan to remodel our kitchen. We had saved for 12 years, waited for a good contractor and hired a designer to put our vision on paper.
What you don't plan for, or really expect, when remodeling home are the emotions the remodel will trigger. While I'm taking everything in stride, I miss my kitchen. Luckily, our planning means that we're only unable to use it for four weeks from start to finish. This week on the blog, I want to talk about the connection you have to your home. Should you choose to remodel or renovate the space in which you live, you can do so with a clear head and a steady heart. 
The phases of a remodel:
With inventory at an all-time-low, a lot of folks in Boise are buying fixer uppers. Their eyes fill with dreams of projects before they've even closed on a house. I've remodeled a few properties in my day. In my opinion, there are a few key steps to reduce stress and ensure a rewarding experience. 
First, there's the budgeting and saving step. While it's most important to budget and save for the costs associated with construction, one thing I wish we had budgeted for is our lodging during the remodel. Living in a construction zone, especially when the space under construction is where your family spends most of its time, is difficult. If you choose to stay home, you'll be doing dishes outside in your camp kitchen or in the bathtub multiple times a day, among other things.
Next is the planning phase. This one happens to be my personal favorite. A lot of people ask me where to focus their funds when it comes to remodeling your home. Being a Realtor, I've typically planned renovations that appeal to the masses. This remodel, however, is personal to me. The kitchen is the heart of our home. In our mid-century modern space, I knew we needed updated conveniences. I hired a good kitchen designer who could take all of the ideas I had and distill them down into concrete options to maximize the function of our small space. I highly recommend hiring a designer; the choices can be overwhelming otherwise. 
Another thing to consider when remodeling your home is the schedule of your contractors. In Boise, some contractors are backed up for months, so finding the ones you want and making a plan on their schedule is important. For instance, I planned out my cabinets in March, and I had to book an electrician five weeks in advance. Not to mention, the backsplash I finally found took seven weeks to arrive.
Implementation Phase: Finally! All of your saving and planning culminates in anticipation for the remodel. I'm afraid that excitement wears off quickly once walls start coming down and dust begins to fly. If you decide to stay at home while the remodel takes place, which I don't recommend, here are some tips to get you through the hard days.
Strategies for Thriving During a Remodel
Have a mantra. My mantras start as simple as repeating the word "Patience" to myself over and over again, to reviewing the statistics on the value I'm adding into my home. Homes in the Treasure Valley are much harder to sell if they're not updated. This is a big result of the lack of contractor availability. It's much harder for a buyer to do the work after they've bought the house than it is for the seller to do before they list it. Plus, you'll get your money back and then some. If a house hits the market with a fresh renovation, buyers jump on it. Just because we have a lack of inventory doesn't mean that buyers are willing to pay top-dollar for something that needs updating.
My final piece of advice is to sit with your emotions. I'm feeling very scattered because I like things to be in their place. When the space I spend my most time in feels out of order, I feel out of order. Our kitchen is the center of our home, so I have to remind myself that we're giving it new life. To do this, I spend time evaluating the progress. This includes the hard work that went into saving for this remodel and envisioning the final product. This process gives me the conviction to know that when this remodel ends, I will love our home more than ever.
If you're considering remodeling your home, I'd love to talk you through it. My experience with good contractors (and not-so-good ones) can be a guide for you. If you're thinking of an upcoming move, we can work out what value you might be able to add. Give me a call or shoot me an email.