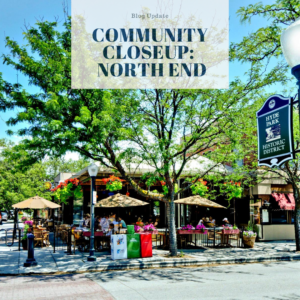 Steeped in the history of Boise's beginnings, the North End touts lovingly maintained bungalows and a tight-knit community feeling. Its schools, restaurants, and shops are some of the best in town; and the community's beating heart, Hyde Park, offers endless entertainment. The North End's proximity to downtown and the Boise Foothills make it a prime location for homebuyers. It pulls in the highest price per square foot of any neighborhood in Boise, making the location even more exclusive.
History
The development of Boise's North End began in 1863 when the O'Farrell family built the city's first permanent home, a cottonwood cabin on Fort Street. More than a decade later, the first neighborhood was platted in the area between what's now North Junior High and the Boise Co-Op. The expanded North End currently spans to 28th Street, with Elm Grove Park anchoring the western side.  
Real Estate
Ornate Queen Anne villas and catalogue homes were the first to be on trend in the North End. After 1910, modest bungalows were preferred by the working class community for their functional style and efficient layouts. Today, those ornate Queen Anne villas on tree-lined Harrison Boulevard (named for our 23rd president) go for more than $1 million, while the 1920s bungalows are not far behind. The lot sizes get larger the farther you get from Camels Back Park, and many homes are being regularly restored. Homes built in the 1900s aren't for the faint of heart. Those who love a project with character and history can find opportunities here for remodels and reconstruction, but the historic element of the neighborhood can add complexities.
Lifestyle
The North End lifestyle lives up to the hype and the price tag. It includes immediate access to downtown, as well as endless miles of hiking and mountain biking trails in Hull's Gulch. The almost-300 acre reserve is the result of a community-wide effort to protect open spaces. The much beloved Boise Co-Op grocery store anchors the North End neighborhood. Camel's Back Park plays host to views of downtown, summertime festivals, weekend birthday parties and epic slack-lining and stair-running. 
Historic Hyde Park is the center of it all in the North End, with restaurants, shops and bars in walking and biking distance for most of the neighborhood. Personally, my perfect day begins with a coffee at Hyde Perk, a breakfast sandwich at Certified and a stroll around 13th Street. Lit & Co, Hyde and Seek and G. Willikers make gift shopping easy. For happy hour, swing by North End Pizza for a cold beer or Sun Ray for a freshly squeezed grapefruit paloma. Then, enjoy dinner at Hyde House or 13th Street Pub and cap it off with an ice cream from Goody's or an old fashioned at The Royal.
In terms of schools, North Enders have their pick of some of Boise's best institutions. North Junior High borders the neighborhood and is a close bike ride from Boise High School. Washington, Longfellow and Lowell elementary are excellent schools nearby.
Future
As Boise's first true "suburban" neighborhood, the North End has seen a lot of growth in the last century-and-a-half. It's an excellent location for established families, with multi-family housing available, as well. Ample historic homes for renovation and a thriving center of commerce, Boise's population boom will only mean more good things for the area.