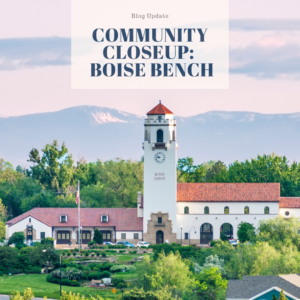 Stretching from the Boise Depot to the Flying Y, the Boise Bench neighborhood offers residents more than just a view of downtown and the Boise Front. It's a part of town that's diverse in ways beyond its renowned range of cuisines. Steeped in history, with great schools, walkability and a range of home styles and prices, the Bench appeals to all types of buyers. If you're looking to get more house for your money while staying a convenient drive from Boise's best assets, take a closer look at the Bench.
History
For most of the 1800s, the Boise Bench remained a desert covered in sagebrush. The area sits above town on a topographic bench, hence the name. Its development started to gain traction when the Ridenbaugh Canal opened at the end of the 19th century. Then, farms, dairies, homesteads, and yes, orchards, sprouted all over the area. After the iconic Boise Depot opened in 1925, the Bench grew like a suburb, with large lots for Boiseans who preferred country living and a pleasant commute.
The post-war housing boom truly built the bench into what we see today, with homes from the '40s and '50s on large lots. Now, it's home to a range of styles and sizes of homes, with several being updated. The Randolph Robertson subdivision also boasts historical homes, so many that the city has documented it for a possible historic overlay in the future to preserve its mid-century architecture. 
Real Estate 
There's a diversity in architecture, cuisine and price ranges among each neighborhood on the Bench. It includes micro-communities that include the Central Rim, Morris Hill, Central Bench, Depot Bench, Hillcrest, Vista and the West Bench. When buyers are interested in homes under 500K with walkability, I show them the Bench. It has the most diversity in types, styles, ages, sizes and prices of homes, with a very urban style of living and many of Boise's best mid-century homes. For buyers interested in DIY projects, there are still good deals to be had.
Lifestyle 
While often overlooked for the more-expensive North End, The Bench appeals to buyers for its affordability and walkability. The several shopping centers, parks, restaurants and schools mean that each neighborhood has access to amenities galore. For those who commute downtown or to Boise State University, it's a quick jaunt. The airport and highway are similarly convenient. South Junior High, Borah High School and the private Bishop Kelly high school are all excellent institutions. The Bench also boasts high quality elementary schools.
When it comes to shops and restaurants, the Bench's diversity of cuisine sets it apart. Ethnic markets include Campo's for Mexican cuisine and Foodland for Middle Eastern food and Turkish coffee. Cucina di Paolo is an excellent stop for lunch or take-home Italian, while Luciano's is also a family favorite for classic Italian-American cuisine. Lark and Larder grocery offers local farm-to-market products. Petite 4 has a French brasseries style menu focused on seasonal and local produce. 
The Boise Depot serves as the beacon of the Bench, with views of downtown and the Boise Front that stun in every season. Its garden also offer beautiful places for contemplation and gatherings. Hillcrest Country Club and Morris Hill dog park are just the cherry on top of the well-rounded community.
Future
The Boise Bench continues to impress me, with beautifully renovated homes, historic elements and accessible lifestyle options. It's an excellent location for young families, as well as first-time buyers trying to find their way into the market. Homebuyers in Boise can find more options in their price range than some of the tighter micro-markets. I only expect it to progress as Boise grows.