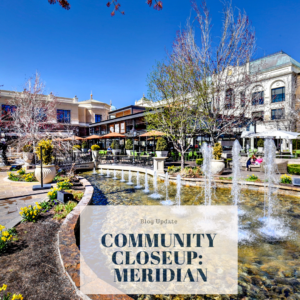 East of Boise on I-84, Meridian has risen out of its history as farm country to a self-contained suburb. With planned communities, green spaces, a variety of shopping and ample room to grow, it's no wonder Meridian was the fastest growing city in Idaho last year. In fact, my husband grew up in Meridian and often remarks on how unrecognizable it is today. In the past, Meridian residents had to venture down to Boise for entertainment and amenities, now they have it all. 
History
Meridian is rooted in a history of farming, with its dairy culture celebrated each June during Dairy Days. While it remained rural for decades, the city ballooned over the last 30 years, topping out at a population over 100K. When the Ten Mile interchange opened almost a decade ago, it pushed even more growth to the west end of Meridian. This made additional communities, businesses and retail more accessible and eased the congestion of the growing suburb. Today, Meridian is the second largest city in Idaho.
Real Estate
Don't let Meridian's growth scare you off; many of the area's farms have been converted into planned communities that give it a small town feel. These areas include pools, clubhouses, wide streets and sidewalks. Some of my favorite communities include Paramount and Saguaro Canyon, while west Meridian's will soon be the home of a new Costco, ensuring even more growth.
Speaking of growth, low inventory markets like Boise's make opportunities for new construction even more appealing. In places like Meridian, where there's ample space for growth, opportunities include large developments like The Oaks North by the Toll Brothers. They sold 40 homes in their first two weeks! Smaller semi-custom home builders like the teams who are developing Bridgetower West offer opportunities for different plans as they release each phase. Just know that it takes longer to build a home (approximately 12-14 months). Learn more about new construction in this blog post. 
Lifestyle
Living in Meridian means you're in the center of it all. Money Magazine named Meridian one of the best places to live in 2019 for its rural feel and big city amenities. The Village at Meridian offers everything from high-end shopping to an outpost of the Boise Co-Op. Plus, downtown Meridian has local boutiques and a small-town vibe. Personally, I love to follow HelloMeridian on Instagram to find out what's happening around the community. There's no shortage of activities for kids, as well as green spaces like Settlers Park, and downtown Boise is just 15 minutes away.
With two 60-acre parks, two sport parks and 21 public parks in all, Meridian's got not shortage of green space. These parks are the center of the community, with Settlers Park's outdoor movie series and live music, and fun splash pads for kids all over town. Roaring Springs is also located in Meridian and is the valley's only water park. 
The schools in Meridian fall into the West Ada School District. The institutions are as varied as they come, with magnets, charters and excellent public schools. West Ada offers school choice, which further adds to the appeal. There's even a medical arts school for high schools interested in entering the medical field.
Things to Consider
If you live in Meridian, there's a good chance you'll be commuting most places you go. There are very few communities within walking distance of commercial areas. That being said, the city is now self-contained, so that most people who live there also work and play in the area.
Another thing to consider within Meridian involves school capacity. With the city's rapid growth, many of its schools are at their max for enrollment, so when looking at homes in certain districts, I advise buyers to check on availability rather than automatically assuming there will be space for their kids.