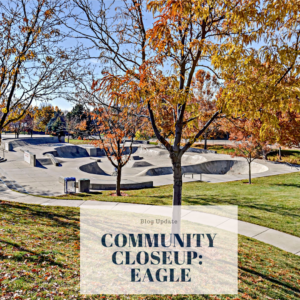 West of Boise and south of the foothills, Eagle, Idaho's, proximity to expansive green spaces combined with its adorable downtown and high quality planned communities make it an ideal location for home buyers. For me, Eagle brings to mind luxury homes, acreage communities and a village-style vibe with all the modern conveniences of a suburb. 
History
During the Boise Basin gold rush of 1863, Truman Catlin purchased 160 acres of land along the Boise River. The aptly named Eagle Island parcel boasted bald eagles galore, and the intrepid Catlin dug irrigation trenches for 700 acres of farmland, beginning an era of agriculture to support the growing population of the valley. In 1990, Eagle's population stuck around 3,000 people, but between 1990 and 2000, the population boomed to more than 11,000 people. Now, more than 30,000 people call Eagle home, with more growth on the horizon. 
Real Estate
If you're looking for a luxury home on acreage, Eagle has more inventory than anywhere else in the valley. The building boom in the mid 2000s focused on acreage communities, that is homes on one acre or more land. Eagle also has new construction communities, like Legacy, which is a planned community with a three-hole golf course, multiple swimming pools, tennis courts, a clubhouse and almost 200 acres of preserved open space. Doesn't it sound idyllic?
Dennis Baker builds some of my favorite communities in Eagle. He's responsible for Two Rivers, Island Woods and Lakemoor. As a horticulturist at heart, he focuses on the green spaces and his communities are stunning in all seasons. If you're looking for an area with more mature trees, these are excellent, established communities. New phases are also coming in Homestead and Eagle Mountain, so opportunities continue to become available for new construction.
Lifestyle
The Eagle lifestyle is self-contained, with golf courses, foothills access and its own state park. Not to mention, its downtown boasts amazing restaurants. From Ahi Sushi and Rembrandt's to Oak Barrel and Bacquet's French restaurant, there's no shortage of good food. Wild West Coffee is a personal favorite of mine, as well, and Heritage Park is home to a bustling Saturday farmers market.
The great outdoors comes in many forms in Eagle. There's world class golf at Banbury and Spur Wing and the Eagle Bike Park. Eagle Island State Park also offers excellent hiking, a swimming beach and zip lining. Plus, there's a thriving community of equestrians in this area.
Things to Consider
When I have buyers looking for homes in Eagle, I caution them to check the capacity at the schools in their district. Unfortunately, many of the schools have been unable to keep up with the growth of the area, and they might not have availability for new families.
Another thing to consider is the commute to downtown can be tedious. The main access roads are Chinden Boulevard, Hill Road and State Street, which can get congested. Plus, there's no direct access to the interstate from Eagle.